PCOS practice tools for health practitioners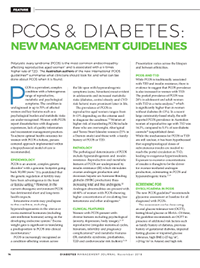 PCOS & Diabetes: Management guidelines
Read this concise and instructive article on the interplay between PCOS and diabetes; PCOS and Diabetes: New management guidelines, authored by four MCHRI researchers – Negar Naderpoor PhD, Rhonda Garad PhD, Eleanor Thong PhD, and Prof Helena Teede.
Download the article (PDF, 4.83MB)
Recommendations from the international evidence‐based guideline for the assessment and management of polycystic ovary syndrome will be published in four international journals.
Fertility and Sterility
Human Reproduction
Journal of Endocrinology and Metabolism
European Journal of Endocrinology
CoMICs Episode 25: Polycystic Ovary Syndrome
Here is a link to an engaging video on Polycystic ovary syndrome for health professionals. This was developed in collaboration with CoMICs.