Advancing Women in Healthcare Leadership
Aiming to co-design evidence-based, implementable and measurable individual and organisational level interventions to advance women in leadership in healthcare.
We wish to create a healthcare sector that supports its whole workforce to meet its full potential.
Currently the Australian healthcare sector is not supporting its workforce to meet their full potential. Despite making up 75% of the workforce (1) women are only 45% of public hospital board chairs (2), 39% of private hospital CEOs (3) and 38% of chief medical or health officers. Women are the majority of the workforce but do not hold an equitable share of healthcare leadership positions.
Current approaches to overcome this problem are adhoc, duplicative and of limited effectiveness. We are using partnership, research and translation to design and deliver multi-faceted organisation and individual level interventions to measurable improve inequity.
Advancing Women in Healthcare Leadership (AWHL) is MCHRI Monash University led large-scale national research and impact project supported by an NHMRC Partnership Project grant and contributions from our partners.  
Visit the AWHL website at  www.womeninhealthleadership.org
We are developing a wealth of knowledge around what works to achieve gender equity in leadership, see latest publications here . We are using this knowledge to design implement and evaluate initiatives, resources and toolkits that support our partners and the broader healthcare sector improve inequity in healthcare leadership.
Organisational Change Management
Individual organisations play a key role in fostering an inclusive, and equitable workplace culture, that supports the career advancement of women. Working in collaboration with healthcare organisations we are mapping, co-designing and evaluating organisational approaches to gender equity.
Nursing Leadership
Women in nursing face a unique set of barriers in their progression into healthcare leadership positions due in part to the profession's feminine bias. We are working with healthcare organisations to uncover these barriers and co-design evidence based-interventions to address them.
Leadership Development Programs
Evidence indicates that leadership development programs are beneficial to a women's career advancement, but are often unevaluated and financially inaccessible.
Building on existing programs, such as the Women in Leadership Program [MH3], and academic literature, we aim to define a set of core outcomes that leadership development programs should address and measure.
Role of Member Organisations
This project aims to define the role of medical membership organisations in the advancement of women in healthcare leadership, and then use this knowledge to design and implement evidence-based interventions to support change.
Intersectionality
As organisations devise policies and intervention strategies to combat this inequality, it is important they recognise that women are not one homogenous group. This project aims to understand the impacts of intersecting social identities on a women's journey to leadership in healthcare and ensure they are taken into consideration during intervention development.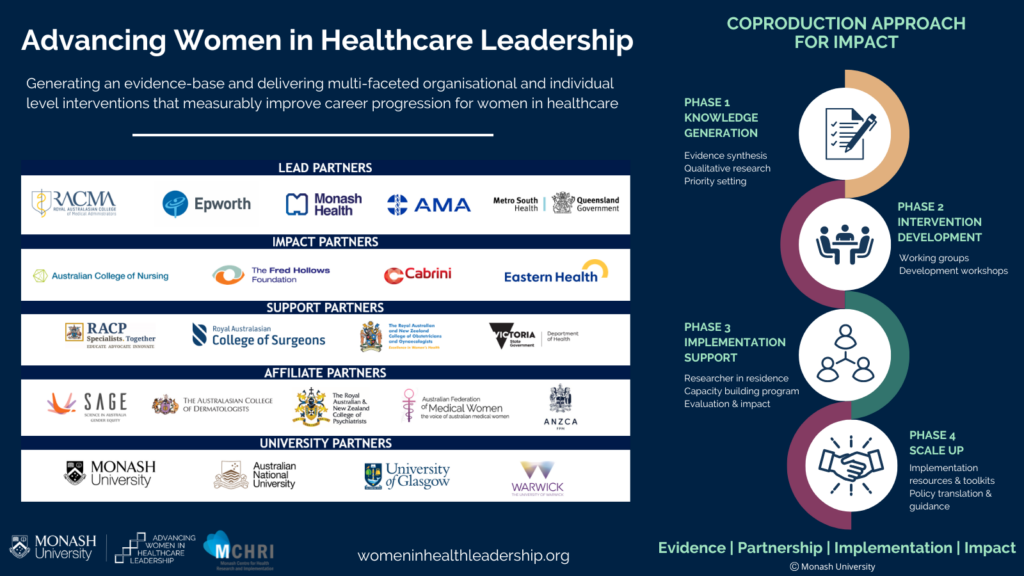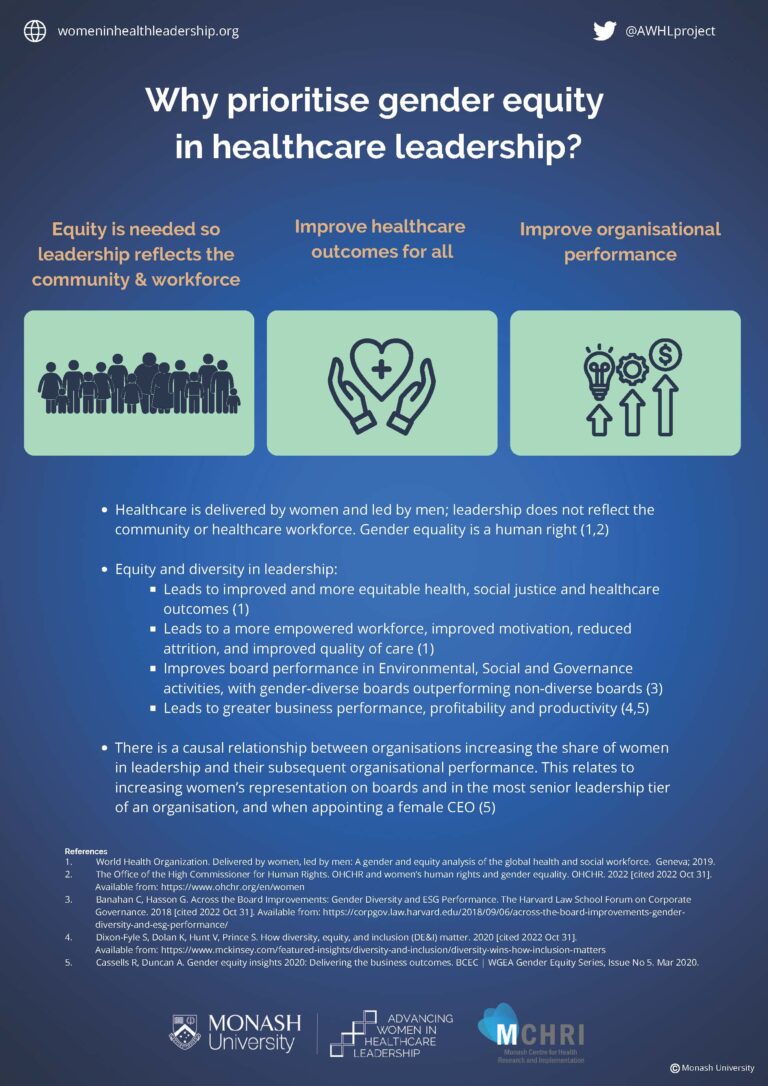 Student Research Projects
This team offers a variety of Honours, Masters and PhD projects for students. There are also a number of short-term research opportunities available. You are encouraged to get in touch regarding potential projects that align with the research areas mchri.awhl@monash.edu.