Consumer Group for Cardiometabolic Health Implementation and Research for Postpartum Mothers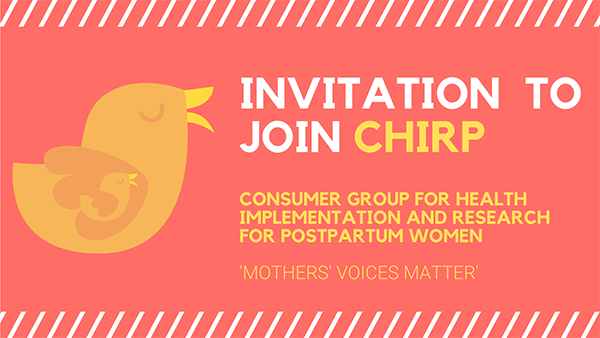 CHIRP's researchers are looking for mums with children under five to join a consumer group – to share experiences and help to develop programs and research. It's free to join this great group of mums and you could be reimbursed for your time and experience. See below for a list of FAQs.
Contact Siew Lim or Maureen Makama on  CHIRP-enquiry@monash.edu for more details, or complete this survey to get started.
We are a group of Monash University researchers interested in improving the health and wellbeing of mothers with young children. Our overarching goal is to prevent long-term lifestyle diseases such as diabetes and heart disease in women. However, our previous engagement with mothers with young children tells us that health to them is not just about avoiding disease, but also about achieving a balance in physical, mental, spiritual, social well-being. We would like to develop health programs or interventions that meet the needs of mothers with young children, in a way that would be helpful for them.
What does being part of the consumer group involve?
You will receive email invitations to participate in surveys or meetings where you will have the opportunity to share your experiences. Your experiences may be used to help develop some of our projects that aim to improve the lives of mothers with babies and young children. Although we will invite you to the meetings, you are not obliged to attend any or all of the meetings.
Will I be paid for my time?
Depending on the nature of the activity, you may be reimbursed for your time and expertise. Each time you participate in an activity you could receive around $35-40 per hour, or as specified in the invitation for each of the activities.
Tell me more about the group?
The group is very social and supportive. We are simply a group of mums who are trying to get together to help each other, and to help other mums. We would like to hear more from you on how we could add value to your personal lives, work and volunteer ventures.
Is this an ongoing commitment?
We would like you to be part of the group for one year. You are not obliged to attend any or all of the meetings or activities. You are also able to 'unsubscribe' to the emails at any time.
If you would like to join the Consumer Reference Group for Postpartum Mothers, please complete this survey.
What happens after I join?
As a member of this Consumer Reference Group, you will be invited to join a survey and Zoom meeting sometime in the next few months to determine the priorities for health research for mothers with young children. To show our appreciation for your time, you will receive an online Mastercard of AUD35 (for survey) or AUD40 (for Zoom meeting).
Siew Lim, Maureen Makama, A/Prof Lisa Moran, Prof Helen Skouteris, Prof Helena Teede
Members
Lisa, Lilliana, Samantha, Shayanti, Rathida, Aino, Jessica, Cecylia, Felicity, Lucy, Iris, Jasmine, Lana, Jane, Ebony, Shasha, Alana, Emma, ChingYee, Nicole, Anthea, Dolly, Mihirika, Nikita, Marcella, Esther, Tahlia, Nova, Kelly, Mahnaz, Edel, Kimberley, Krystie, Kathy, Tamra, Sasikala, Thangamani, Angel, Marilyn, Holly, Anastasia, Faizat, Marcia, Surya, Michelle, Susie, Sophie, Clare, Jocasta, Jessica, Homtapwa, Ramya, Jessica, Sarah, Hauwa, Yele, Lily, Nabila