World Health Organisation Director General Tedros Adhanom Ghebreyesus recently said of the international COVID response that "we are all in this together, but the world is not acting like it".
In summarising the global response to the COVID pandemic, he warned that if we continue down this disjointed path, there will be more than 300 million COVID cases each year.
While we've seen a lack of cohesion internationally, we've also seen this mirrored in Australia.
The toolkit for success
Your chances of dying from COVID, or living with long COVID, are largely a consequence of public health measures, vaccination rates, policy priorities and political leadership, and suppressing the spread of infection.
Australia, along with other countries such as Vietnam, managed to control COVID exceptionally well with strong public health measures, policy priorities and political leadership (largely at state level), until the arrival of the Delta variant.
The Delta strain is now ripping through even the highest-vaccinated populations, but it's the unvaccinated who are more likely to be hospitalised or die.
One outstanding outcome of COVID has been the research and lessons that have emerged. In what's arguably the largest human experiment, we know what tools work to control and reduce the threat from COVID.
The toolkit for success includes the right policy settings, public health measures (physical distancing and masks), hard and fast lockdowns (which from Australian research has shown to save both lives and economic impacts), and an effective vaccination rollout.
Added to this, in Australia, has been the quarantine of all international arrivals, and arrivals from other states with outbreaks.
The Burnett Institute director Brendan Crabb said:
"Lockdowns are an essential part of the pandemic-control tool kit because they work. Nobody wants to use them. You desperately don't want to use them. But, ironically, if you want to use them smartly, then you have to pull the trigger early – you have to act incredibly early on in an outbreak."
The Australian experience … and then NSW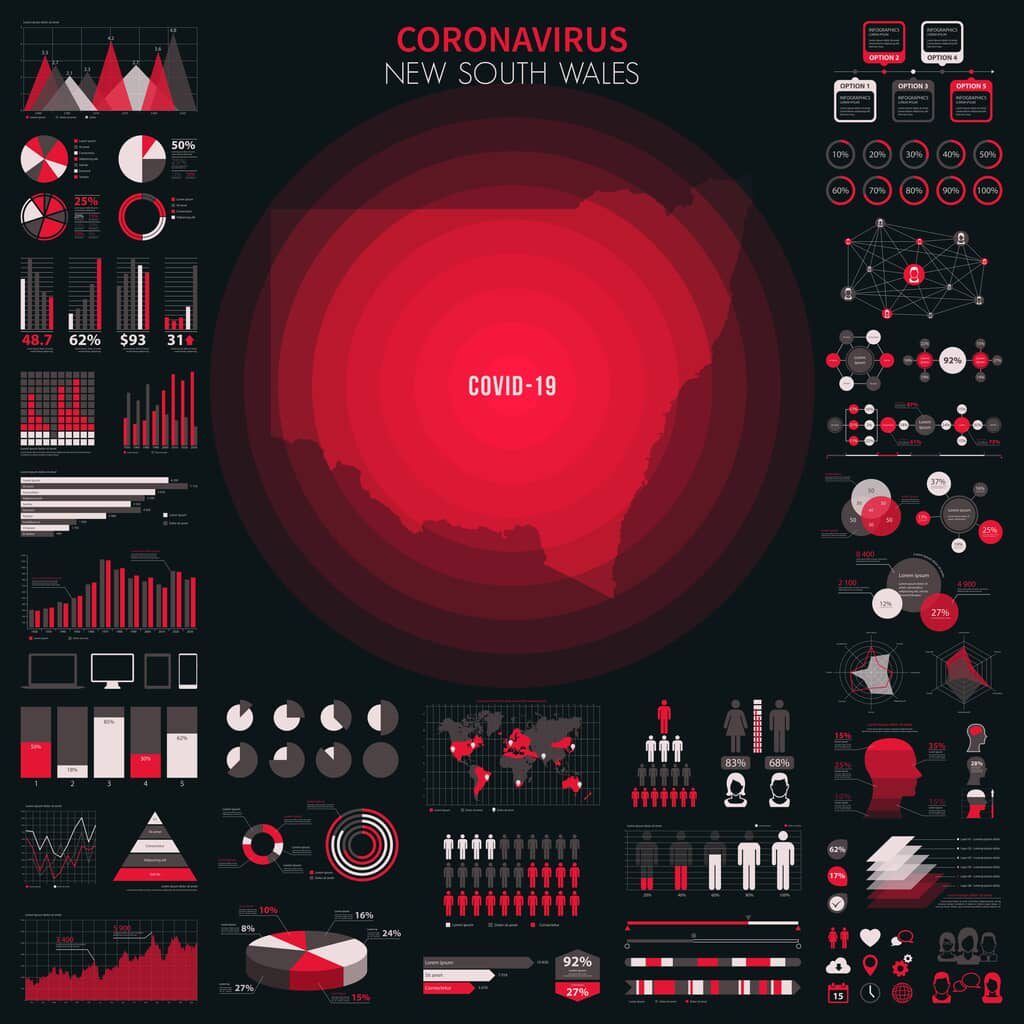 In Australia, the states have largely been left to deal with the pandemic on their own, in the absence of a national approach. The benefit of this has been a sensitivity to state-based needs, and the disadvantage is a lack of cohesion in approaches.
Four Australian states have largely shown a unified approach in implementing all components of the toolkit. NSW has been an exception.
NSW, while successful initially with public health measures, has unfortunately not benefited from the lessons learnt in other states.
It's failed to heed expert advice, and has taken a softer and more incremental policy approach that has now led to more than 6000 cases and 42 deaths in the current wave. It's also led to spread, and lockdown at times, for more than 50% of the Australian population as infection leaks into other states and territories.
Public health and behavioural change
While COVID treatment and vaccines are important, the thing keeping most of us well is the public health measures. Despite this, there has been almost no money spent on the science of population health and behaviour. Few studies have explored why people comply, or not, with public health rules.
In an ongoing international iCARE (International COVID-19 Awareness and Responses Evaluation) study, we're looking at people's understanding, attitudes, beliefs and actions towards COVID, and to date collected more than 90,000 surveys from 140 countries.
Australian data representative across age, sex and location has significantly and uniquely contributed to new knowledge here, despite a lack of dedicated funding.
We found that in the most recent round of this research with 1012 Australians, in a survey completed on 11 August, key information emerged that can guide state and federal policy.
Comparisons with an earlier round in July 2020, at the beginning of the Victorian outbreak, with 1052 Australians, also offers insights.
Importantly, NSW residents appear to still trust the government – a situation that may change, but is vital for effective public health measures.
About 93% of the NSW population reports that government interventions are important in controlling COVID. Last week, an outstanding 32.5% of NSW residents reported that the NSW policies were too lenient to control the spread of COVID, which implies that many in the NSW population will be receptive to the new restrictions introduced since then.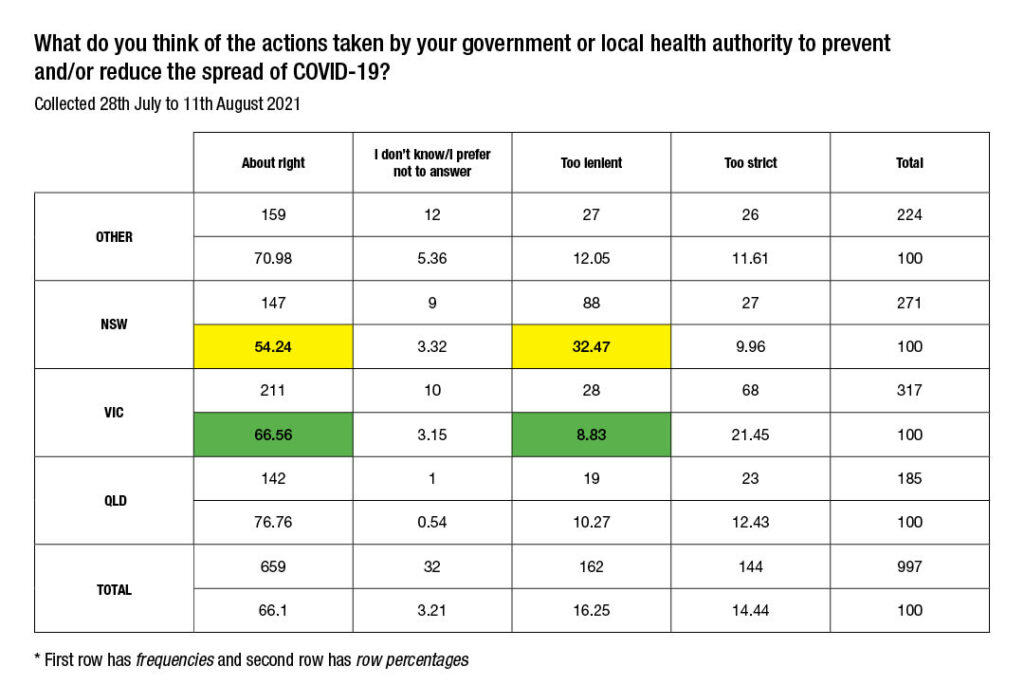 In contrast, last week only 9% of Victorians, also currently in a lockdown, reported that the state's policies were too lenient.
In July 2020 the situation was reversed, and 29% of Victorians reported Victoria's policies as too lenient, while 19% of NSW residents reported NSW policies were too lenient.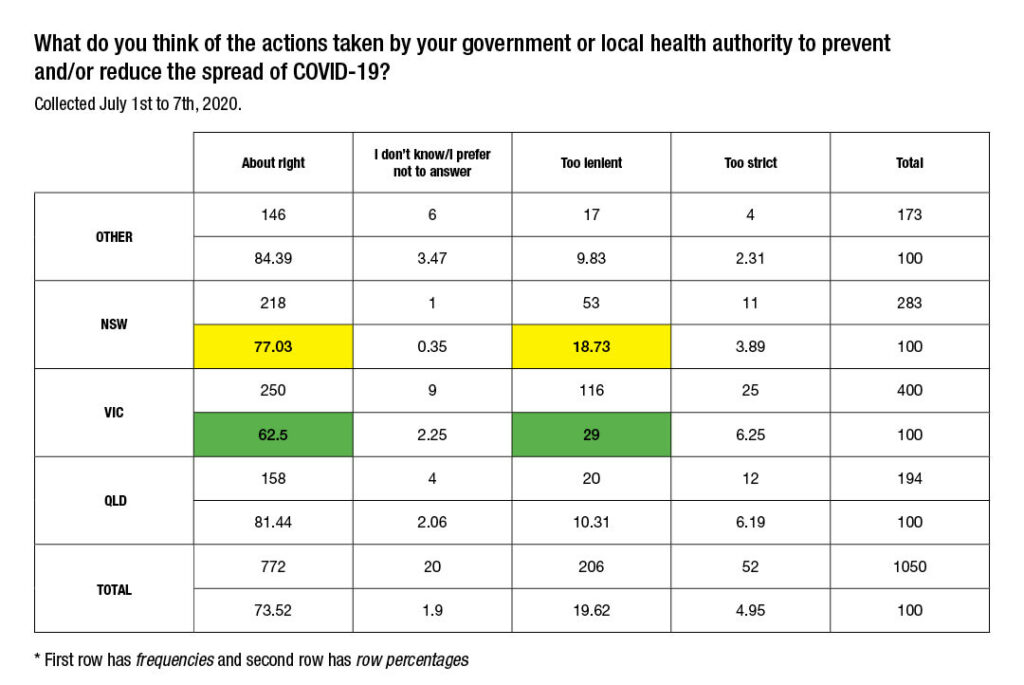 This data isn't perfect. While it's a national representative sample, the survey tools are in English, and cannot purport to have reached important high-risk populations, including those in southwest Sydney local government areas that have been under the tightest restrictions.
However, this population perspective aligns with advice from experts, including Professor Brendan Crabb from the Burnet Institute, and epidemiologist Professor Marylouise McLaws, who have been calling on the Premier Gladys Berejiklian to broaden the lockdown.
Population compliance does not simply work by decree in a democratic society, and there's been resistance to restrictions all over the world.
In adopting lessons learnt from the broad research field of population and behaviour change, key ingredients for promoting adherence during pandemics are that education, consistent messaging, addressing concerns and motivators, and providing support are all critical for behaviour change.
Restrictive measures can be supported
In the context of consistent communication, financial support and free healthcare, restrictive and punitive measures can be generally supported and accepted as not overly restrictive.
A mix of communication is required around saving lives of the vulnerable, and other strategies targeting high-risk groups, facilitation of easy testing, and minimisation of financial impacts.
Vaccination and public health measures with wrap-around financial and social support are going to be vital in managing this outbreak.
Missing components that offer an opportunity for NSW to turn around the numbers include clear, concise communication by trusted experts; leadership and avoidance of blame; enablers and support including strategies such as sick leave cover and financial support to take time to attend COVID testing and isolation where otherwise unavailable (available only from now in NSW hotspots, but should be available throughout NSW as they are in other states); and targeted engagement and strategies to support underserved populations.
There remains a high level of trust by the people of NSW in the state government – a vital currency to embolden the Premier to broaden state policies, from support to enforcement.
While it still has the trust of the majority of the population, and still has tools not yet deployed, there's hope. However, a failure to rely on the evidence and science regarding effective population health measures, aligned with our vaccine "strollout" (our very slow national vaccine rollout), has generated a ticking time bomb in desperate need of disarming through effective public health measures, lockdown and vaccination.
Our research shows that many of the people of NSW are calling for harder lockdown measures, and that the Berejiklian government has a high level of political capital, enabling it to go harder with stricter public health measures.
Victoria, with its ability to bend the curve from more than 700 cases per day in 2020 using only public health responses (no vaccine available then), was the gold standard, seeing a drop in cases after one month of lockdown, compared with the current eight-week lockdown in Sydney, with cases still increasing.
With a lockdown is also now ongoing in Victoria, it'll will be interesting to see if Victorians remain adherent to the public health restrictions, as they did in 2020.
This article was published as a Monash University Lens article and is republished here.